August 24, 2018
The Great Affairs-Ten & 2. Denny Smith returns again with The Great Affairs and their latest is a harder-rocking, crunchier-sounding affair that reminds me more of Smith's former band, fORMER. No longer content to play in the Gin Blossoms' sandbox, Ten & 2 owes more to Cheap Trick, KISS and maybe even Bon Jovi. This is vintage 80s/90s AOR with the standouts being "What You Get is Gone", "Unfound" and "Back to Boston", which could become a Fenway Park anthem in the near future. Rock on!
August 30, 2018
The Great Affairs is a rock 'n' roll band.
And they made a rock 'n' roll record.
You get it all: classic rock, power pop, roots rock, Southern Rock…
When you think you are hearing Cheap Trick, The J. Geils Band, The Bottle Rockets and Bad Company at the same time, you are probably a good listener.
More important, if you are looking for a Saturday-Night-Record, I have found you one.
August 13, 2018
The Great Affairs have evolved over the years. On their second album 'Ricky Took The Wheels' they owed a reasonable debt to The Black Crowes in terms of influence; by the following year, they were experimenting with stripped back Americana and, two years hence, their music – with a guiding hand from a new rhythm section featuring drummer/vocalist Kenny Wright – things had moved further towards gritty bar-room rock. Whatever the chosen style, though, each release could be relied upon for a handful of superb tracks.
2018's 'Ten & 2' has less of a hit and miss approach to previous Great Affairs albums, but when it hits, it does so square on and better than ever. It also approaches its art with a stronger rock bias than ever before. An instant hit, 'Trippin' Over Me' mixes Denny Smith's instantly recognisable vocals with a stop-start riff and punchy bass that places the band somewhere between the grittier end of The Gin Blossoms' output and sweaty rock 'n' rollers Watts. The main riff is a 70s groover – as heard through a retro 90s filter – which suits the slightly husky voice admirably, while the sense of swagger between guitarist Patrick Miller and Kenny Wright's drum kit more than suggests the current line up have some serious chops when it comes to live performance. Something that is, perhaps, stronger than before is the way a very melodic 80s styled hook is woven into the 70s backdrop; a fantastic key change and presence of an occasional backing vocal harks back to one of Smith's side projects, The Die Youngs. In all, it's one of the best Great Affairs tracks to date. Stretching out to almost six minutes, the punchy 'Take The Ride' occasionally hints at a love for early Kiss in the riff department, before switching gears and bringing in an AOR chorus that's much closer to something from 'These Days' era Bon Jovi. Given the Americana leanings of the band's earlier work, it's a surprise to hear such a classic melodic rock style being flaunted, but despite Smith's voice sometimes being at odds with such musical polish, it's a great number. It probably could have been done and dusted inside of four minutes and been just as good, but to be fair, the extra time is mainly concerned with delivering the main hook a couple of extra times – and with a chorus so strong, it's hard to blame them for milking it a little. A grubby slide guitar solo is on hand towards the end to pay homage to the band's earlier musical traits, something that ultimately makes this number feel very natural. In fact, if you've never heard The Great Affairs before, this track is a great place to begin your journey: with a very strong chorus, great playing, a dose of radio-friendliness and a nod to roots rock, it has a little of everything you'd want for a fun listen.
With more of a warm edge to the bass, 'Hands Off The Wheel' wastes no time in finding its feet as a solid rocker. Despite a promising riff, though, it's almost as if after giving their all within a couple of bars, the track has nowhere else to go. The chugging riff has promise and the production on the album allows a more audible separation of the instruments than ever before, and while a pre-chorus and twin lead guitar add a couple of other great moments, there's something amiss here – a bigger chorus would have certainly helped. It's not a bad track, but it's easily outshone by many others on this long player. Much better, 'Like Stone' uses a two guitar attack and solid drum groove to drive a fine piece of blues rock. While he's never possessed the biggest voice or range, Smith proves he's up to the job, applying a moody Americana tinged delivery against something that sounds like a stripped back equivalent of something you'd more likely find on a Black Stone Cherry album. It's the current GA line up fully embracing the big rock chops that arrived on their fourth release; by the time Pat steps up with a howling solo and the mellotron briefly takes on a bigger presence, this track asserts itself as one of the album's best, even if it isn't always derived from more of a traditional Great Affairs sound.
The defiantly retro 'Sing Along' is a direct throwback to the days when Great Affairs were Black Crowes obsessives, especially in terms of Patrick's chosen guitar tone. It has one major difference, though: Kenny's lead vocals add a much grittier feel to a familiar brand of Faces styled rock and he's a perfect fit, sounding not a million miles away from Tesla's Jeff Keith, whilst 'What You Get Is Gone' is rockier than anything in the band's catalogue. A defiant 80s hard rocker, it's as if they've been comparing notes with peak Great White, throwing out a slight bluesy vibe against some grubby guitar lines. Smith adopts a vocal style to suit and its uneasy approach between drawling and huskiness eventually seems very natural. There are better tracks to be heard on 'Ten & 2', but a gutsy feel and a cracking guitar solo make it worthy of cranking the volume and enjoying it on face value. It was inevitable that things would become 'It's Only Rock 'n' Roll' era Stones eventually – albums such as this pretty much always do! – and, in that respect, 'Back To Boston' doesn't disappoint with a natural swagger a la Ronnie Wood. Chorus-wise, though, the very American feel has much more in common with Great Affairs works from the '4' album onward. A few gruff harmonies and swirling organ really bring things to life and a simple chorus sends everything off in style. It's hardly reinventing the wheel, but it's finely played and should be a massive hit with those who love mid 70s Stones, Watts and Dan Baird.
A rousing rocker, 'Unfound' taps into sounds that are close to classic Gin Blossoms and the vastly overlooked The Loveless. Theringing guitars really drive a strong pre-chorus and a superb radio friendly hook taps back into The Great Affairs past, too, so in terms of jangly rock, it ticks all the right boxes. With a feel-good quality throughout, it's easily one of the best things on this album, while the semi-acoustic 'Learn To Let Go' could be derived from any number of 90s Americana tinged ballads – the sort of thing that made Danny Tate really shine. Presenting the more thoughtful side of Kenny's voice, accompanied by sedate acoustic strums and tasteful piano work, it's more mature than some of the band's past works and he almost finds something timeless within. Picking things back up to full tilt, 'The Day I Let You Go' shows off the band in rock mode – all choppy riffs, big 80s drums and grubby vocals – and sounds like something destined to become a live staple. A cut above the rockers from their formative years, here Denny, Kenny and company wheel out some shameless twin lead hooks and a rousing riff, making everything seem so effortless. Being one of those tunes that doesn't require its audience to over-think everything, by the time Patrick has launched into a short guitar solo, it's hard not to turn up the volume and just go with it. Actually, that seems like sound advice…
Closing the album, 'Last Good Memory (Revisited)' is a re-recording of an old Great Affairs tune, originally a highlight from 'Ricky Took The Wheels' back in 2010. Eight years on, it's a different beast. A selection of new wave inspired keyboards and filtered vocals suggest influences from The Killers and, at first, also suggest this mightn't have been the best idea… However, as the tune finds its feet, the chorus remains an absolute stunner and the rejuvenated Affairs breath new life into a favourite with a real tightness. By the time you've heard the chorus for a third time and a section of Soul Asylum-esque ringing guitars careen everything over the finish line, you'll have already long forgotten about the misfire of an intro. Then, once the album stops spinning, all you'll have to cling to is the fantastic hook, so it's a real win. You'll wonder why they thought it needed revisiting at all – until, that is, you revisit the original cut and realise a great song was utterly weighed down by a slightly muddy mix, so it sort of makes sense. It would have been better if played absolutely straight, of course, but you can't have it all…
It's been a long road to this point, with a lot of experimenting to find out what really works, but approximately a decade on from their earliest musical steps, The Great Affairs have delivered a largely fine album. It's never a perfect one, but with this kind of music, perfection and shine would only detract from the overall feel. In terms of its driving rock, long time fans will find plenty to enjoy, while the unenlightened should earmark 'Back To Boston' and 'Take The Ride' for future listening. Mixing some of the alt-rock choruses from The Die Youngs, with the retro rock of their earlier records and a pinch of their later-found grittiness, 'Ten & 2' feels like a Great Affairs greatest hits of sorts…and although you can't please all of the people all of the time, if there's any justice in the world, at least two of these songs deserve to reach cult classic status. It may not always retain the directness of the '4' EP, but most of 'Ten & 2' comes highly recommended.
January 23, 2017
Denny Smith – An Overnight Low
Faragon Records - 4th November 2016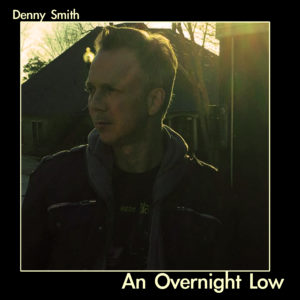 Reading the bio attached to 'An Overnight Low' you get the feeling that Denny Smith might be an interesting guy to hang with. His musical pedigree and journey is certainly an interesting one, and this, his first real solo effort has the sort of patina that seems completely authentic.
I like this one, it's not demanding, nor is it throwaway coming across as it does like Ryan Adams and Butch Walker grew up listening to eighties Power Pop. More akin to his band The Great Affairs than his other outlet fORMER this is music that strikes just the right balance.
The opening pair here work particularly well together: 'Silver Lining' has a great melody to it and a grey-tone to the edges of the lyrics and 'Hard Stop' offers a faster tempo and a little more colour and hope.
There are moments of light Americana – like 'Leaving L.A.' but on the whole this is more about the Pop – 'All the Livin" brings a smile that stayed and 'Missing You' is a nicely executed understated ballad.
Elsewhere 'My Father's Son' has a certain Mellencampian (word for the day) charm and closer 'To Call this Home' is quite beguiling and possibly the simplest and best here. Lead single 'Rider' is rockier than most but equally cool.
Nice work.
November 17, 2016
Denny Smith: An Overnight Low

Denny Smith, the captivating frontman of rock band The Great Affairs has finally delivered his first solo album, An Overnight Low. Smith's 12-track record contains exactly what fans have been hoping for; hook-heavy no frills rock and a healthy dose of contemplative ballads.

Written and produced by Smith himself, An Overnight Low shows the singer-songwriter in a new light from his previous band efforts. The gorgeous "Leaving L.A." is a cinematic love letter to the City of Angels, while the infectious "Hard Stop" is the kind of romantic rocker made for blasting from rooftops and car windows when needing a break away from the insanity of the world.

For those not yet familiar with Denny Smith, his style can best be described as a stirring fusion of Tom Petty and Jon Bon Jovi, with a dash of the Stereophonics' Kelly Jones. For fans of the aforementioned, An Overnight Low is the album you didn't know you've been impatiently awaiting.
November 15, 2016
Denny Smith-An Overnight Low.
The frontman of The Great Affairs and fORMER finally put his own name on the cover with his solo debut. Unlike the harder-edged pop of fORMER, his solo excursion is more at peace with his other band; in other words, classic mid-tempo pop/rock that's radio-ready (90s radio that is). "Silver Lining" opens the album in fine fashion with just the right dose of melancholy to go along with a winning melody, while the more uptempo "Hard Stop" finds the golden mean between Butch Walker and The Gin Blossoms. "All in the Livin'" is an upbeat, acoustic number that's quite ingratiating, and the power ballad "Missing You" is another delight. Smith isn't going to reinvent the wheel, but that doesn't mean the ride isn't still smooth.
Uber Rock UK
January 01, 2015
Only a few months ago I was reviewing an album called 'Nothing's Broken' by The Die Youngs, aka Denny Smith and Kenny Wright, and here the dynamic duo are back again, accompanied by Henry Go on bass guitar and Patrick Miller on lead with a new album from The Great Affairs.

Whilst 'Nothing's Broken' was a good album I felt that it lacked some cohesion - something that, I'm happy to say, this album doesn't suffer from. And this is despite the different flavours that Kenny and Denny bring to the table - Kenny with his classic rock stylings and Denny with his power pop sensibilities - the balance on this album is just right.

'Left Of Me' sees drummer Kenny Wright take the lead vocals in a low, down and dirty rock and roll track that isn't too far away from a Cinderella kind of vibe.

Denny then takes over with more of a Rick Springfield type of sound in the excellent 'The Next Three Minutes' which is as good a slice of power pop as Fountain Of Wayne's 'Stacy's Mom' or '1985' by Bowling For Soup. It's a top, top tune and as good as they get plus, if you're someone that simply doesn't get The Rolling Stones, that's an extra reason for you to sing along. Loudly and hoarsely.

If the last song was one to sing along to then 'Eyes In Every Room' is one to sit back and listen to. The jaunty strumming of this acoustic number belies the seriousness of the lyrics which in turn make for an affecting experience.

'California' and 'She Likes' reinstates more of a party atmosphere as the band rock back out with much swagger culminating in the Foreigner-esque 'Secret's A Secret'.

With such a choice selection of songs peppering the first half of the record it's hard for the second half to outshine the first. But what the band manage to do is put together a solid set of songs like 'Elise', 'I Can't Sleep Alone' and 'Stay All Night' which all share the lush, dreamy melodic pop overtones that equal just about anything that the Gigolo Aunts have recorded.

With this record as evidence, it looks like The Great Affairs are coming into their own.
Screamer Magazine
December 23, 2014
Imagine if you will the instant hooks and melodies of Cheap Trick with the Americana of Tom Petty & The Heartbreakers complete with a hint of Ginger Wildheart's countrified spirit and a hint here and there of the melodic edge of Aerosmith...'Dream in Stereo' is full of 13 laid back tracks which belong to be heard loud while in the car driving on an endless dusty highway.
March 28, 2015
THE GREAT AFFAIRS – Dream In Stereo

Following their third release 'Happy Ender' in 2011, US roots rockers seemed set to call time on their career, with frontman Denny Smith moving on to other projects. Luckily, they had a change of heart and following a shift of line up, 2013's '4' was arguably the best of their career to date.
A couple of years on, 'Dream In Stereo' is a record that, in a few places, finds the Nashville quartet rocking harder than ever. Never more is this the case than during a hard hitting opener 'Left of Me'. This tune comes with a huge blues-drenched swagger in the guitar department, while Kenny Wright's throaty vocal settles for something distinctly late 80s as he channels Great White's Jack Russell. With an additional harmony via the band's long-serving mentor Denny Smith, there's more than enough melody too, while musically a world of slide guitar attitude and some great harmonica ensure a decent send-off. Bringing similar old style rock 'Secret's A Secret' brings a whole world of Stones-y guitars, a flash of organ and a southern charm. Despite a guitar solo straight from the Black Crowes school of thought, it's Wright who owns the track; his hard, raspy delivery is out there front and centre, with a love it/hate it gruffness that means business. Both tracks show The Great Affairs rockin' side in a very strong light.
A little rootsier – and veering towards more of a retro-pop feel – Smith takes the reins for 'The Next Three Minutes', his quieter vocal tones pitched well against a staccato guitar before blooming into a rousing chorus, full of harmonies. Although a tune fairly typical of latter day Great Affairs', it's perhaps closer in tone to some of the material by related band The Die Youngs, particularly once it finds its stride and proves itself fairly infectious. A similar thoughtfulness cuts through the moodier 'I Can't Sleep Alone' placing Smith's aching voice against huge minor-key chords and a spacious arrangement before stepping into a strong pop/rock chorus. Under the slightly distorted chords, a melodic bass pins everything together on what occasionally feels like a twenty first century equivalent of Billy Falcon's work. Revisiting a favourite Great Affairs theme of the open road, 'The Highway' is a brilliant alt-country number. A finger picked acoustic guitar is overlaid with dobro to great effect, while the protagonist tells the tale of a lost love who hates travelling – the hushed and downbeat mood providing the perfect foil for Smith's natural voice, feeling somewhat like a throwback to the band's excellent 'Happy Ender'. For those who may not always enjoy the hard rock bought to the band since Wright's arrival, this tune will certainly provide some consolation. Blending roots rock with a full and smooth sound, 'We Just Disagree' offers a wealth of multi-layered vocals, jangling guitars and distinctly 70s piano, resulting in one of the band's best tunes. Hearing this for the first time, it's absolutely amazing how much more confident the band have become since 2010.
The Great Affairs certainly have sounds they know work well for them and naturally revisit them often – very much case in point for the twangy stomper 'California' with its rousing country rock edge – but just in case you feel 'Dream In Stereo' is overly familiar at times, 'Miss America' is set to blow you away. Cut from similar rootsy sounds as the best GA tunes, this number remodels them into a slow-burning ballad that's worthy of standing alongside The Black Crowes 'She Talks To Angels' and even the Faces 'Glad and Sorry'. A slow groove paves the way for a wall of gently stroked organ sounds recalling the late Ian McLagan, the soaring lead guitars are impeccably played and the sense of hurt within Smith's delivery just sets everything off beautifully. Across the better part of six minutes, the band are on fire – in the polar opposite of the likes of 'Left of Me' – pulling back at every turn, eking out emotion and knowing in their guts that less is – indeed – more. Not only is this the album's jewel (against stiff competition), but it's up there with The Die Youngs' 'Nothing's Broken' as a career best for Smith and Wright.
On this fifth release, The Great Affairs make no attempt to pander to anyone that isn't already on board. The thirteen numbers recycle many familiar sounds with style and for those happy to go along for the ride, the dustbowl of the great wide open and even more tales of broken hearts are guaranteed to entertain.
Popmart Zoo
February 14, 2015
After teasing us with 2013's 7-track EP, Nashville's The Great Affairs finally return with their latest full-length set, Dream in Stereo. Denny Smith and company deliver yet another top-shelf collection of kick-ass material which begs to be featured within any play list that includes Kings of Leon, Counting Crows, Tom Petty and The Heartbreakers, and their ilk. Thought provoking lyrics coupled with Smith's raspy voice invite you inside the album as it often harkens back to the kind of grit and raw emotion of Rod Stewart's Every Picture Tells a Story.
Manning the board alongside Grammy-nominated engineer Michael Saint-Leon seems to have been the right decision as TGA sound more confident and proficient than ever on each of the record's dazzling 13 tracks. Dream in Stereo must not be overlooked by fans of no frills, balls out rock 'n' roll, especially since it's getting harder and harder to find in these seemingly endless days of over produced, soulless, drivel.
Not to be missed highlights (among many) include: "Miss America, "Eyes in Every Room," and a first-rate cover of Dave Mason and Jim Krueger's classic "We Just Disagree."
JP's Music Blog
January 01, 2015
'Dream In Stereo' continues to showcase Denny Smith as one of the top independent singer/songwriters...
Real Gone
May 10, 2014
'Nothing's Broken' -The Die Youngs
One listen to the title track and you have to wonder why it wasn't considered" right" for The Great Affairs. All the right ingredients are present: an alt-country jangle pepped up by a very subtle lapsteel crying under a wall of rhythm guitars, a superb chorus and confident vocal. In fact, this slice of country rock is incredibly infectious – worthy of many of the subgenre's better known practitioners; the Gin Blossoms springing to mind almost instantly. Smith takes a typically husky approach to each line, managing to bring a sparkle to the well-worn maxim of everything being "all over bar the crying", his hushed delivery is given a lift throughout by the classy arrangement.
'Something In The Air', on the surface, is a piece of country rock perfection, blending finger picked guitar and a quiet vocal on beautifully crafted verses, before hitting the listener upside the head with a shiny AOR chorus.
January 16, 2013
"The first "great" new release of 2013 has arrived by Nashville indie rock band The Great Affairs. Front man Denny Smith and company kick off the new year right with this infectious, 7-track EP, that's guaranteed to filch your soul and rankle inside your mind until it drives you bat shit crazy. Key tracks include the Tom Petty-esque "Sherrybaby," the scorching "Fists & Guitars," and "Gone," which recalls 1970s era Rod Stewart. The Great Affairs' 4 is a surefire cure for the winter blues and your ailing rock n' roll heart."
-Eric Allen
The Die Youngs – "Nothing's Broken"
May 31, 2014
It wouldn't be a stretch to imagine this gathering of talent supporting either Tom Petty or cranking it loudly in support to The Wildhearts. They have that crossover appeal that could fit either of these musical beasts. "Dirty on the Stereo" has that special ingredient of hook-laden mixed with feisty energy thanks to an accessible chorus and the toned down verses.
"Some Things Never Change" ... it's just so good. Comfortable in its own skin, it builds with control and restraint without losing the melody. "Let Me Go" starts out like it might belong to the Ginger Wildheart School of song-writing before settling into its groove. Things remain top quality and hook-laden with "That's My Girl" before getting interesting on "Something in the Air". The space in the verse and the general mellow approach doesn't prepare for an explosive chorus that touches the clouds in the sky.
The acoustic-based "Crawl" strums itself in to the consciousness before "Seven Days" brings a country-tinged flavour to the ebb and flow of "Nothing's Broken". If you recall Smith's work with The Great Affairs, then the vocals won't surprise, but what might do is how diverse the vibes are. "I Am Reborn", "Make it Out" and "Just Someone I Used to Know" stroll along the dusty highway with an air of a lazy Sunday afternoon.
JP's Music Blog
May 31, 2014
Singer/guitarist Denny Smith certainly keeps himself busy. Fronting the bands The Great Affairs and fORMER before that and now he has added his latest venture to the list, The Die Youngs. The band came together when Smith and The Great Affairs drummer, Kenny Wright began playing around in the studio with songs that were left over from previous Great Affairs' albums. They decided that the songs were too good to throw away, so they assembled an all-star supporting cast which includes members of Sugarland, John Fogerty's and Travis Tritt's bands and many others. What came of those recording sessions is the self-titled debut album from The Die Youngs.

Beginning with the uptempo rocker "As Fine As You Are," you notice that these songs have a loose feel that allows the musicians to take to songs to new heights. The alternative rock of "Dirty On The Stereo" and the country mainstream appeal of "Let Me Go" shows that these songs definitely deserved their day in the sun. The song styles are a bit of a "mixed bag" of genres, but that is what also makes that album so attractive, not knowing which direction the music is taking you. The song "That's My Girl" is a hit single waiting to be discovered, while "I Am Reborn" is perfectly titled for this release as a fresh, new energy is injected into the music.
"We hear roots poppers like The Jayhawks, some Paul Westerberg solo/latter period Replacements throughout the record...a shimmering blend of country, folk, and bar band rock-leaning songs. Listening to these guys make music is a beautiful American experience."
Real Gone
January 16, 2013
"'Fists & Guitars', as its title suggests, is a full-on rock 'n' roll thrasher – and it's on this Kenny Wright penned number that the promise of the revitalized Great Affairs being a kick-ass band really delivers. With a ragged style and a no-holds-barred rock 'n' roll aesthetic, The Great Affairs crank out sweaty riffs akin to early AC/DC meeting with the Led Zeppelin 1971 classic 'Rock And Roll'. While each of these songs offers something of listening interest, this is the pick of the crop."
Lee
Real Gone
All Access Magazine
"If ever there was a case study on how to produce perfect power pop that combines fantastic rhythms, intelligent lyrics and finely crafted songs, with superb production values, that will endure for many years - this is it. I think this album will be looked upon as a classic years from now."
"Rock'n'Roll Heart" kicks off this party of quality Rock and just as you catch your breath you're assaulted by some more quality Rock in the shape of "Shame on You" which instantly appeals due to the melody line throughout, some tasty organ too by the way.
The first single from this release was "Sherrybaby" which oozes class as The Great Affairs snuggle up with their sound in full control of their identity. Nothing better than hearing a band who know who they are and what they're going to do. "Should I buy this ring, 'cos I ain't no Romeo?" is the opening line from "The Ring" which slows the pace down. The feel and the flow of this release is well judged.
Joining Denny Smith (vocals, guitars, keys, blues harp) are the following rogues; Patrick Miller providing more guitars; Henry Go on bass, vocals, and percussion plus the drumming talents of Kenny Wright who also offers up some vocals and percussion.
During this listening experience, I'm at the stage of kicking off my boots, leaning back in my chair, slurping from a chilled fizzy soda imagining what it would be like to live in the U.S. of A. Life is good (sometimes).
"Dyin' To" is next up as it rolls out a melodic, slippery guitar riff. Melodies and soft harmonies wash are the order of the day. These guys are seriously good. Hints perhaps of song writing genius Ginger Wildheart put to a soundscape that isn't as rugged and raw as his former band or elements of his solo back catalogue. Afterall, The Great Affairs show their main base to be Nashville.
For many reasons a major highlight on "4" is the feisty and driving "Fists & Guitars" which includes Smith getting excitable with his blues harp! In complete contrast the following song begins with a strumming acoustic guitar. "Gone" is also adorable.
JP's Music Blog
January 16, 2013
"Denny Smith and his band The Great Affairs return in 2013 with a seven-song EP entitled "4." After taking most of last year off, the band comes back with one of their strongest efforts to date. The band sounds tight. Denny's songwriting should be compared to some of the great classic rockers like Tom Petty and Neil Young."
JP's Music Blog
Not Lame
"...playing loose and having a good, solid time making music from the gut and letting the sparks fly. That it comes off sounding so effortless is testimony to the talents of the participants. Fans of The Jayhawks, The V-Roys and Limbeck should dive right in."
Skope Magazine
" .."an aural barrage of Americana pop, country rock and honky-stomps. Think dusty boots and a crisp-collared button down...country-fried with nuanced pop undertones...straddling alt-country and radio-ready rawk. One part Whiskeytown, throwback Soul Asylum and the Jayhawks with a bit of Wilco thrown in for good measure, The Great Affairs have rendered a respectable outing; truly something for just about everyone."
Kool Kat Musik
"Smith is a soulful, rustic rock `n' roller who's has turned out a consistent string of fine records over the past couple of years. The Great Affairs' music takes in the rootsy guitar rock, the strained angst, the wavery worry of the Honeydogs, the throbbing blood-vessel edginess of Paul Westerberg, and the soulfulness of Paul Carrack-era Squeeze. All delivered with a passion and desperation that demand attention. In the end, it's just straight ahead rock and roll. No frills. Not sappy, not loud...just oozing with great energy, good songwriting and a powerful voice."
The Murfreesboro Pulse
"Nashville based pop/rock band The Great Affairs' latest album, Ricky took the wheels.., is a great affair indeed. This newly released collection of well-crafted songs picks up where their 2009 eponymous debut left off, yet raises the musical bar significantly. Lead vocalist Denny Smith penned all 12 tracks contained in this instantly likeable and highly memorable piece of musical ear candy. Ultimately, it's the sum of all the parts that make this highly enjoyable album a success. From the inspired lyrics to the excellent guitar work, Ricky took the wheels.. is guaranteed to leave listeners satisfied and anticipating what's to come from this highly promising band. This praiseworthy recording sounds like a major label deal should be waiting just around the corner. If this album isn't perfect, then it's damn close."
Absolute Powerpop
"The Great Affairs-Ricky Took the Wheels. The Great Affairs are led by Denny Smith, formerly of fORMER, whose "loud" power pop we reviewed here last year. Unlike fORMER, though, The Great Affairs have a more laid-back "Popicana" sound not unlike The Meadows, or the poppier side of Paul Westerberg. Ricky Took the Wheels is actually their second album, with their self-titled debut out late last year, and like the fine debut this has plenty to offer. "Feels Like Home" is as good as this style of pop gets, featuring jangly guitars and hooks and melodies galore, while "So Damn High" and "You're Not Funny" rock in the Tom Petty vein. Smith and crew know their way around a ballad, too, as "My Apologies" and "A Hundred Other Things" demonstrate clearly. And "Last Good Memory" closes the disc as it began, with an excellent roots rocker. "
J.P.'s Music Blog
"The Great Affairs are back with their brand of good old-fashion Rock & Roll. This band does not need any gimmicks or to follow any styles to get noticed, their music says it all. The new album entitled "Ricky Took The Wheels" is available now on Faragon Records. The band comes right out of the gate with their straight-forward rock on "Feels Like Home" and "Inside Your Head." The ballads "My Apologies" and "You'll Never Know" carry an acoustic Wilco-type sound with some great lyrics that touch the heart. The band returns to their roots with the southern rocker "So Damn High" and "You're Not Funny." The Great Affairs have so many great songs on their new release that a major label needs to stand-up and take notice of this latest band to come from Nashville."
Bill's Music Forum
"Ricky Took The Wheels" picks up where the last record left off, with the Nashville band serving up more pop Americana. "Feels Like Home" is a terrific way to start things off…an upbeat number straight out of the Tom Petty songbook. Hearing The Great Affairs play this one feels like home, indeed, and this one is my favorite off the new album. "Inside Your Head" also has its charms, with a bit of Black Crowes injected into the punchy riffs. The verses shake you a bit, but it is the wonderful pre-chorus that gets you moving. "My Apologies" is a sparse and lovely fingerpicked tune, but then "You're Not Funny" arrives - a bluesy road house track that gets your blood pumping once again. Similarly, "Bastard Son" is a driving pop rocker that proves these guys can be more accessible if they want to be. Finally, the record ends on a high note with the crazy good rocker called "Last Good Memory". Recommended if you like The Jayhawks, Grant Lee Phillips, or Wilco"
Powerplay Magazine
February 22, 2012
Drawing musical sustenance and inspiration from the likes of Elvis Costello, The Cars, and Cheap Trick, fORMER ploughs an unashamedly retro feel. The 80s will seep from your speakers within seconds of opening gambit "Head Light" bouncing in on its simple garage band-style riffage.
"Fix You" and "Lie To Me" display a certain harmonic knack as ooh-ahh backing vocals add a certain sweetness to offset a surprising but decidedly melancholy undercurrent. The melodies and harmonies are where it's at for these guys, with basic basic guitar lines offering the bare minimum of riffola. Still, it didn't do The fecking Beatles any harm...
Rock Society Magazine
February 22, 2012
fORMER's self-defined "Loud Pop" is chock full of driving, crunchy, uber-catchy Rock underpinned by some excellent three-part vocals and chunky guitar from a band who sound as if they're having the time of their lives. A great, fun-filled album.
PopBang Radio
"Nashville's Former could be (and should be) signed to a major label in a heartbeat and heard all over the place. Ultra-catchy tunes, 3-part harmonies, and pristine (but not overdone) production match up with a lot of talent in the band to create one of the hottest debut bands of the year. Excellent stuff!"
AbsolutePowerPop.com
"Since the release of 2008's And Nothing But the Truth, Former's Denny Smith has been busy with The Great Affairs, releasing 2 full-lengths and an EP. But here Smith puts his alter ego aside for another turn of hard power pop that has more in common with Butch Walker and Cheap Trick than the mellow roots pop of his other band. The frenetic "Head Light" lets you know where you stand right off the bat with a driving hard pop beat that recalls the Foo Fighters. "How Does it Feel?" steps off the accelerator a bit but still rocks out in a Steve Bertrand/Rob Bonfiglio fashion, while "Sister" has that Walker's kind of swagger. And "Lie to Me" is a flat-out classic (see video below). For those who want to emphasize the "power" in "power pop", this is your disc."
Classic Rock AOR Magazine
February 28, 2012
Vocalist/guitarist Denny Smith delivers 10 songs, each one dripping with raspy vocals and tight power-pop arrangements. The Cheap Trick influence is audible on "Born A Ghost", while "Drown" has a Talking Heads vibe, but the songs don't come any stronger or punchier than opener "Head Light"....hooks aplenty.
Sea Of Tranquility
January 23, 2012
"The Kids Deserve Cable ....The riffs are sharp, the choruses are neat, yet catchy and there isn't a moment on The Kids Deserve Cable that isn't thoroughly enjoyable, with opener "Head Light" simply exploding with energy, while "Born A Ghost" cleverly tones things down in a way that might just go top 10 with the kids and parents alike. Add to that "Sister", which offers up a seductive piano motif that makes way for gritty chorus and "How Does It Feel", which really could be a summer anthem and there's no doubt that fORMER have the smarts and capability to hit the mainstream."
January 25, 2012
There's a new sound from Nashville and one that you wouldn't ordinarily associate with that musical mecca. This is the sound of melodic, punky pop rockers fORMER. Refreshingly they don't sound as typically American as say bands like Good Charlotte or Sum 41. Sure there are some Cheap Trick moments on this disc but mix that with some good old British punk and new wave influences and you've got a band that you can't quite pinpoint where they live just by listening to their music.
The album's intro has me thinking of The Ruts but that dissipates upon the entrance of Denny Smith's strange vocals. Strange is good. He has style. His evocative vocals come from the same school as Greg Dulli, Sponge's Vinnie Dombroski and Subcircus' Peter Bradley Jnr. There's something more going on here than singing. Something more evocative. The chorus picks back up into punk territory with shouted gang vocals. Connecting the punk passages are musically inventive pieces that may get you thinking of anyone from The Wildhearts to Jellyfish. A strong opener.
And a strong follow-up too. 'Fix You' cements all of these influences into a hook laden song convincingly put across by Denny's vocal delivery.
The hooks keep a-coming with 'How Does It Feel' - another contender for standout track. The vocal production is brilliant - close and intimate reminding me of Paloalto with a backing sounding as if lifted from Angel's classic 'Sinful' album.
'Lie To Me' conjures up a whole platoon of influences; Aimee Mann, Bay City Rollers, Redd Kross, Mansun, Haven and The Cars. This built-in familiarity has instant classic written all over it.
'Born A Ghost' is a lyrical adjunct to 'The Ghost At Number One' by Jellyfish. A musically interesting and spacious song that resolves into another punky push in the chorus.
And talking of the band being musically interesting just listen to 'Blue Divide' which stretches out into typical Wildhearts meandering. And then there's 'Sisters' with its sleazy intro and inventive middle section which turns as dark as Queen's 'Death On Two Legs' and as funky as The Electric Boys...wow!
'Say It Isn't So' has a funky pop sensibility similar to what Kiss played about with on their much underrated 'Unmasked' album. The overall effect here is much punchier and heavier and augmented with a backdrop of Jellyfish-like harmonies.
fORMER are a cool find this early in 2012. A perfect blend of power pop, punk and rock for your money. The album is very well produced and the songs? There's not a bad one on the album. Had I heard this record last month I'm sure that it would be sitting comfortably in my top
20 albums of the year.
Sugarbuzz Magazine
"fORMER put the 'power' in powerpop rock. The songwriting is so tight it makes a virgin seem a little loose. If fORMER were a popcorn flavour, it would be that salty sweet kind that contradicts, yet completely balances itself. "
"Former writes the kind of songs Cheap Trick used to...and are hands down the best unsigned band I've heard in a long, long time. American Idol be damned. These guys are the real deal."
Now This ROCKS!
"You might be able to guess that this record has been in the planning stages for about 3 years now…otherwise the boys in the power pop and rock outfit fORMER might have entitled it "The Kids Deserve Netflix". At any rate, I think many fans will agree that the ten songs on this new record were well worth the wait.

Plenty of punchy, crunchy guitar bring these songs to life, and Smith's vocals have a mild raspy quality that match the prototype for this genre. While virtually every track is a fun and engaging listen, one of my favorites is the built-for-radio mid-tempo rocker "How Does It Feel" – kind of a Cheap Trick – Tom Petty fusion. With its luscious harmonies, "Lie To Me" comes across just as strong – in a different decade, this could have easily been a top 10 hit. "Fix You" is propelled by an infectious guitar riff, building up to another rewarding chorus. "Come On" is another memorable highlight at the tail end of the record. If you want to hear a less commercial side of fORMER, check out tracks like "Blue Divide" or "Head Light", which have a more contemporary Jimmy Eat World feel.

Check out fORMER if you like SafetySuit, The Gaslight Anthem, or Get Up Kids."
© 2019 THE GREAT AFFAIRS. All Rights Reserved. Powered by
HostBaby
.